The Store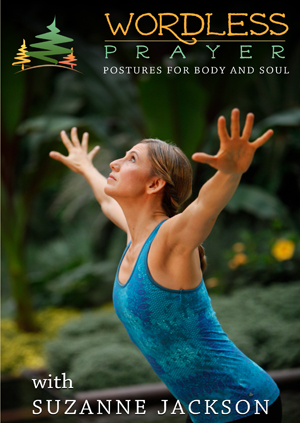 Wordless Prayer on DVD / Download
Experience this exciting new form of Moving Prayer!
Wordless Prayer weaves poses from Yoga and QiGong and postures of silence to create a new form of moving prayer.
Through Wordless Prayer, you can bring movement into your prayer life in a new way, and in turn learn how to renew your mind for a more authentic dance with your Creator.
Wordless Prayer is also available as three separate downloads for instant access!
$24.99 shipping included


Order DVD
Digial Downloads
View Cart
Twelve simple words on DVD / Download
More and more of us are seeking an authentic spiritual life - practices that can help us connect with our Creator, develop an inner sense of character, balance, and well-being, and enhance our relationships with others. By living a more deeply spiritual life, we hope to do our part in building a more just and peaceful world.
Author/former pastor/activist Brian McLaren and wellness coach/yoga/voice instructor/opera singer Suzanne Jackson have collaborated to develop a program of meditation and movement to help people enrich their spiritual lives in a new way. Rooted in the Christian tradition, Twelve Simple Words uses movements from Yoga, Tai Chi, and Chi Gong. People from any or no religious tradition will find value in this simple, doable, and yet deep approach to spirituality.
In Brian's 2011 release, Naked Spirituality, you learned an overview of the spiritual life in a framework of four stages: simplicity, complexity, perplexity, and harmony. Now, in each stage, you are introduced to movements and soul-postures that will help you deepen your life with God. Brian lodges each practice in a simple word and then offers guidance for working with each word.
$29.99 (download time may vary)


Order DVD
Digital Download
View Cart